2017 Australian Senior Nationals

This Week
Only a few more sleeps until the 2017 Australian Senior Nationals This Week! I for one can't wait to see all of the NSW lifters smash it, but more so I'm pumped to see Kush and Jack, compete on the national stage.
This will be Kush's 3rd Weightlifting Nationals. Kush has really made a come back in her training over the last cycle. No really nasty niggles or injuries so I'm confident she will do quite well!
For Jack this will be his first weightlifting nationals after narrowly missing out on qualifying last year. Again I think Jack has really looking really strong, with particular improvements to his clean & jerks. I'm excited to see what he can do!
This years National Championships will take place at the Royal Hobart Showgrounds in Glenorchy, Tasmania. The Competition starts on Friday the 2nd June and spans the weekend to Sunday 4th June. The qualifying gets harder and harder each year, so expect some big numbers to be put overhead!
If you were curious about what you would have needed to lift to qualify check out the table below
The qualifying standards as set by the AWF is: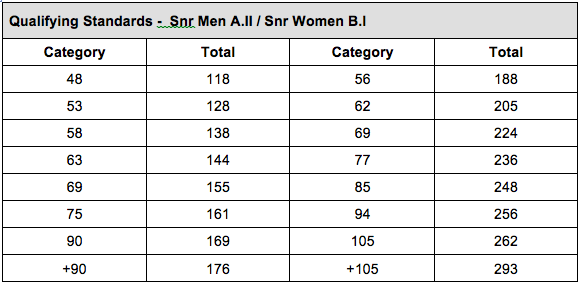 Nationals is a bit different than the Australian Open where the States actually battle it out for the top spot rather than the individual clubs. Kush has been lucky enough to earn herself a spot on the NSW point scoring team.
If you want to watch Kush, Jack or myself compete on-the-line a live stream should be linked to here:
Andy – Friday 2/06 5:45pm
Jack – Saturday 3/06 1:00pm
---

---
[mailmunch-form id="415919″]
Subscribe in a reader
---